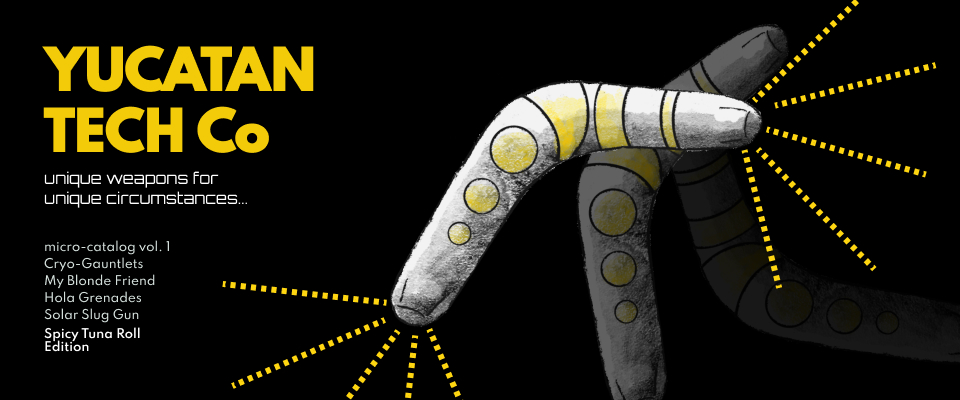 Yucatan Tech Co Issue 1
Yucatan Tech Co is a specialist weapons manufacturer that creates unique weapons for unique circumstances.

This micro-catalog showcases four retro sci-fi inspired weapons that reward creative play and are balanced roughly to starter weapons.

Cryo-Gauntlets: The only possible way Yucatan Tech Co could weaponize cryogenic liquid. Attach the freezable vial inside the gauntlet. Punch the enemy with the gauntlet, smashing the vial and freezing your foe.
My Blonde Friend: A multi-use utility weapon used for reconnaissance missions. Blonde flares can be activated for visibility and the boomerang can split in two revealing a grappling hook for debilitation.
Hola Grenades: Stun grenades designed with the purpose of mitigating civilian casualties, these grenades use humanoid electro-muscular incapacitation (H.E.M.I) technology to short circuit electric-based nervous systems for up to 30 seconds.
Solar Slug Gun: One-shot low-damage slug gun running off solar power. The battery cells instantaneously recharge once shot which makes it perfect for picking off hordes of weaker enemies...as long as it's sunny.
Yucatan Tech Co Issue 1 is a free 12 pg pamphlet that contains 4 weapons. The pamphlet comes with two PDFs.
YucatanTechCoIssue 1Wardens PDF : Full color PDF
YucatanTechCo Issue 1 Player-PrinterFriendly PDF : player-facing, low ink, reduced color version designed for player handouts.

Print tested for Black + White.
Layout arranged for Print on Both Sides - Flip on Short Edge, for easy at-home printing and stapling.
Weapon stats are provided for the Mothership RPG.
Download